Shreveport, La — SHREVEPORT, La. (KSLA) - An exciting story of horror and sci-fi, Little Shop of Horrors is set to excite and intrigue theatre-goers at a historic local theatre.
Shreveport Little Theatre(SLT) and its academy are proud to announce that the tickets for the show go on sale Tuesday, June 28, SLT's first live production in their 101st season. SLT, founded in 1922, is one of the oldest continuously producing community theatres in America, never failing to surprise.
Dr. Robert Darrow, SLT's managing and artistic director, is eager to begin the kick-off of the theatre's 101st season.
"Little Shop of Horrors is a fun, high-energy show that the whole family can enjoy," Says Dr. Darrow.
The Little Shop of Horrors has devoured the hearts of theatre-goers for over 30 years. Howard Ashman and Alan Menken (Disney's The Little Mermaid, Beauty and The Beast, and Aladdin) are the creative geniuses behind what has become one of the most popular shows in the world.
"I am excited to revisit Little Shop of Horrors after playing Chiffon in 2001 at BPCC and making my SLT directorial debut in the summer of 2011 with Little Shop of Horrors. Dr. Robert Darrow afforded me the opportunity to direct the musical in conjunction with my master thesis (in 2011), focusing on ancient Greek theatrical techniques and their influence on the modern musical. Revisiting this show is like having coffee with an old friend and I couldn't be more excited to dive right back into the process," said Director and Choreographer Laura Beeman Nugent.
The cast is a small intimate cast-led construction. The small, intimate cast is led by Nathan Gay (Seymour Krelburn), Brittany Gay (Audrey), Jackson Driggers (Mr. Mushnik), Luke Digilormo (Orin Scrivello D.D.S.), Karyn Rimmer (Audrey II), Tierra Williams (Crystal), Myeleke Saimon (Ronnette), Mavy Gigante (Chiffon).
The ensemble includes Cole Buzbee, LisaAnn Kemper, Gabby McFerren, Victoria Lacy, Allison-Rebekah Miller, and Garrison Gay.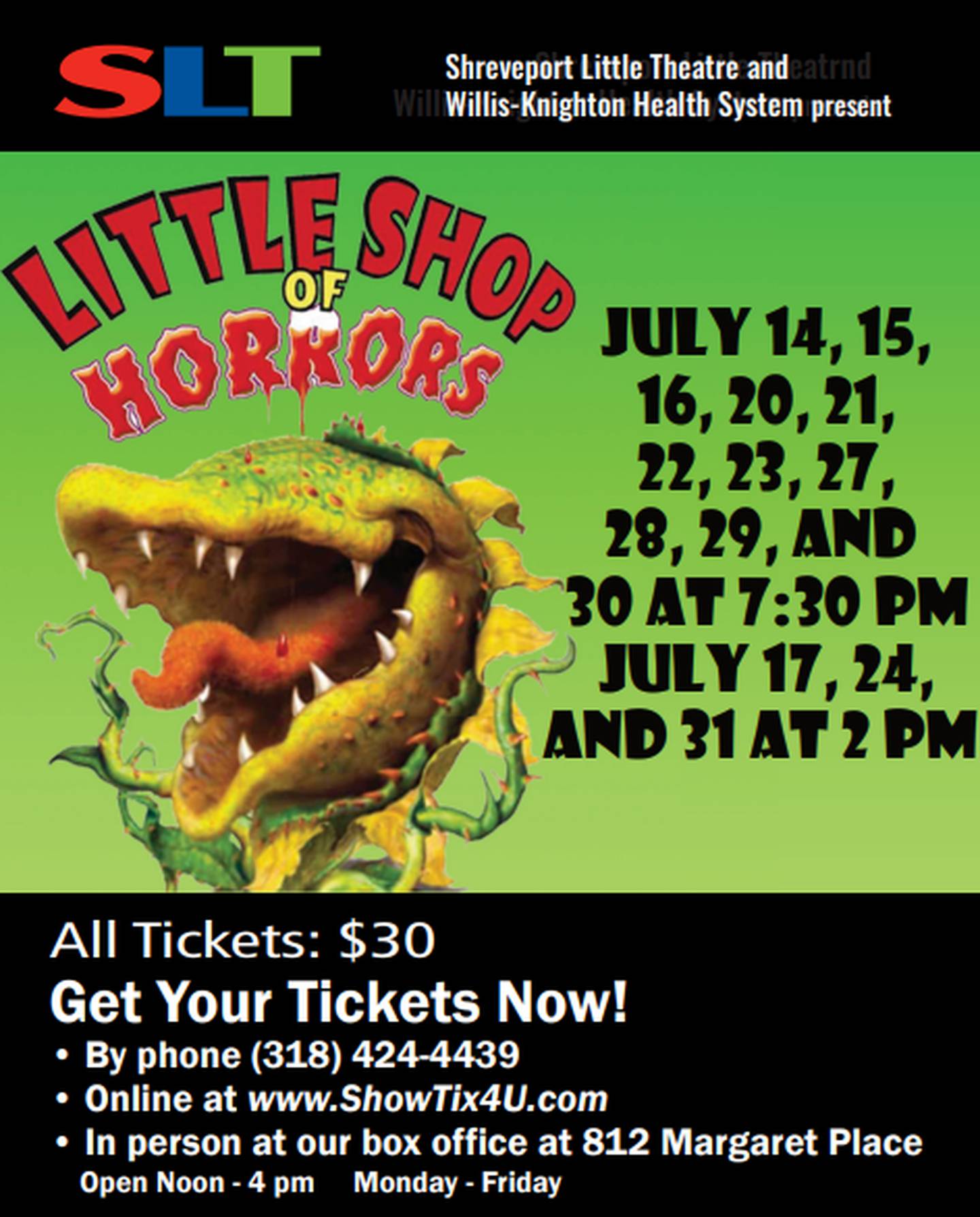 Performances are scheduled to happen at the Shreveport Little Theatre, 812 Margaret Pl. Shreveport, LA 71101, on the following dates:
July 14 to 16, July 20 - 23, and July 27 - 30 at 7:00 p.m.
July 17, 24, and 31 at 2:00 p.m.
All tickets are $30 and will go on sale Tuesday, June 28 at noon.
Tickets can be purchased online after June 28, at shreveportlittletheatre.com, by visiting SLT's box office at 812 Margaret Place, 12 p.m. – 4 p.m. weekdays, or by calling the theatre at (318) 424-4439.
Don't miss this one, it's certainly going to be an exciting performance!
Copyright 2022 KSLA. All rights reserved.
Copyright 2022 KSLA. All rights reserved.